Telemarketers call
Many times you receive a call from telemarketers for unwanted offer like caller tune,love tips,news etc. Some times you also receive SMS also from telemarketers. They also call or SMS with different different numbers so add all those contact to block list is not possible for us.
so here are best application for block call which is starting with same number like I get call from 14*** and my country code is +91 then I can block all calls from telemarketers by using this simple application.
Calls Blacklist – Call Blocker
Features:
– Blacklist (list of blocked numbers).
– Whitelist (never blocked numbers).
– Can block calls from: unknown, anonymous (private or hidden) numbers.
– Also from: range of numbers ("Begins with" option) and alphanumeric numbers.
– Schedule function.
– "Log" of blocked calls and messages.
– Blocking notifications (can be disabled in the settings).
– Enable and disable blocking with one click.
– Save/load blacklist.
for block call from that numbers which is begin with same number follow this step
Step 1: click on plus symbol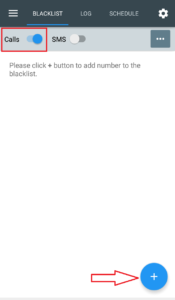 Step 2:  Choose Begins with
Step 3:  Write numbers which is same begins with same numbers (here I want to block call from starting with 14*** so I write this number with my country code +91)
Step 4: Now if you want to see which call is blocked then click on LOG.